VINCENT LARAIA, PRESIDENT & CEO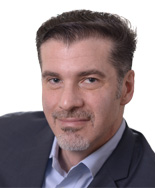 Vince leads Trade X Partners with a client focused vision for growth and has consistently been at the forefront of innovations in barter and media communications throughout his career.
With 25 years of executive experience in the media communications industry, Vince brings a wealth of knowledge in building strategic relationships and corporate barter programs for many Fortune 500 companies. He has held multiple leadership positions in marketing, procurement and operations. As a communications professional, Vince has been involved in all aspects of media research, planning & buying, account management, promotions, corporate communications, entertainment and corporate barter.
Vince is the founder and architect of Trade X Partners. Prior to that, Vince's corporate barter experience includes: EVP Worldwide Director at Interpublic's Magna Global Trading, Director of Print & OOH at Active International and Managing Director at Media Resources Worldwide/TDI.